Loopy App
This is a looper that'll come out to play, but gets down to work when you want to get serious.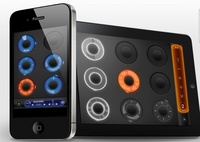 Loopy combines power with simplicity.
While other music creation apps tend to be either powerful but difficult to learn, or easy to use but limited in features, Loopy 2 doesn't compromise.
Create music by layering looped recordings of singing, beatboxing, or playing an instrument with a savvy, sophisticated, tactile new looper that totally reinvents the formula.
Here is what it does: