Loop Producer App
Mix. Create. Produce. Perform.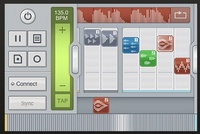 Create non-stop mixes and new music tracks on your iPhone and iPod Touch. Use it as a live remix and loop-based performance tool. Great for adding spice to a DJ set or to pull out at your next party. Looptastic always keeps grooving while you drag-and-drop loops, mix instruments, perform filter sweeps and stutter edits. Export your performance as an audio file or share it via SoundCloud. Includes 380 loops in major dance styles plus you can import your own. It's a party in your pocket! Looptastic Producer was featured in the What's Hot section of the App Store. "Looptastic Producer offers elite producers the most bang for their buck." Wired.com, "Best Ways to Produce Music on an iPhone" "You'll be mixing like a pro." Fox News
"A cool and intuitive remixing environment" Electronic Musician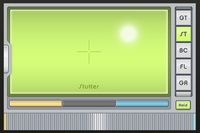 "What an amazing app. The tempo / stretch control is completely seamless. This app has gone from strength to strength and I hope it keeps on going." Palm Sounds "Its so easy to perform different mixes in real time that saying it is smooth is a total understatement. A real winner! Good work guys!!" KeyWiz "Deep [yet] easy to use." AppCraver.com
See Looptastic in action. Check out the videos and audio clips at www.soundtrends.com. Or download the FREE version, Looptastic Gold to get a little taste of what Looptastic can do! Sync app tempos across networks (WIFI, Bluetooth) with NEW Core MIDI Support - create cool, new music rigs of multiple apps, iOS devices and Macs. Now includes 380 loops packaged as remixable Loop Sets spanning Electro, Trance, Hip-Hop, Dubstep, Ambient, Breakbeat, Drum 'n' Bass, Minimal, Progressive House and Reggaeton styles. NOTE: Requires that you download Loop Sets from the Loop Store at no charge.
Loop Sets include drum beats, basses, synths and other crucial remix elements. Mix and match sets to fuel a new mix! Record your own loops with the iPhone microphone. NOTE: FEATURE NOT AVAILABLE ON iPhone 2G MODEL.
Load up to four minutes of CD-quality loops per set.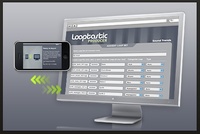 Automatic beat synchronization makes loops of different tempos play in sync! The pitch stays the same--only the BPM changes.
Manipulate the sound with any of 9 effects, including Filters, Delay, Repeater, Bit Crusher, Flanger and more.
NEW – Stutter Loop effect for cool Glitch effects!
Perform and layer effects using the XY Touchpad Controller.
Record your own DJ style mix/remixer performance (including effects) as a new track.
Multitouch volume control with three mix zones and DJ style crossfader.
Import your own loops in AIFF, WAV, or OGG format using an intuitive web interface. Importing simply requires a Wi-Fi connection to a PC, Mac, or Linux machine and a browser.
Export your mix to Mac or PC via WiFi as a CD quality track.
Share your mix with the world via your SoundCloud account.
Use AudioCopy/AudioPaste with other mobile apps like Sonoma Wire Works' InstantDrummer and others.
Play up to 20 loops at the same time.
One Shot mode plays samples without time-stretching -- ideal for trigging samples on top of your tracks..
Manually trigger loops using a waveform display and use the innovative Scratch Strip for DJ effects.