Gamelan
A gamelan is a musical ensemble from Indonesia, typically from the islands of Bali or Java, featuring a variety of instruments such as metallophones, xylophones, drums and gongs; bamboo flutes, bowed and plucked strings. Vocalists may also be included.
The term refers more to the set of instruments than to the players of those instruments. A gamelan is a set of instruments as a distinct entity, built and tuned to stay together – instruments from different gamelan are generally not interchangeable.
The word gamelan comes from the Javanese word gamels, meaning "to strike or hammer", and the suffix an, which makes the root a collective noun.
Influences
The gamelan has been appreciated by several western composers of classical music, most famously Claude Debussy who heard a Javanese gamelan play at the Paris Exposition of 1889 (World's Fair). (The gamelan Debussy heard was in the slendro scale and was played by Central Javanese musicians.[16]) Despite his enthusiasm, direct citations of gamelan scales, melodies, rhythms, or ensemble textures have not been located in any of Debussy's own compositions. However, the equal-tempered whole tone scale appears in his music of this time and afterward,[17] and a Javanese gamelan-like heterophonic texture is emulated on occasion, particularly in "Pagodes", from Estampes (solo piano, 1903), in which the great gong's cyclic punctuation is symbolized by a prominent perfect fifth.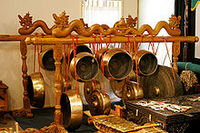 The composer Erik Satie, an influential contemporary of Debussy, also heard the Javanese gamelan play at the Paris Exposition of 1889. The repetitively hypnotic effects of the gamelan were incorporated into Satie's exotic Gnossienne set for piano.[18]
Direct homages to gamelan music are to be found in works for western instruments by John Cage, particularly his prepared piano pieces, Colin McPhee, Lou Harrison, Béla Bartók, Francis Poulenc, Olivier Messiaen, Pierre Boulez, Bronislaw Kaper and Benjamin Britten. In more recent times, American composers such as Henry Brant, Steve Reich, Philip Glass, Dennis Murphy, Loren Nerell, Michael Tenzer, Evan Ziporyn, Daniel James Wolf and Jody Diamond as well as Australian composers such as Peter Sculthorpe, Andrew Schultz and Ross Edwards have written several works with parts for gamelan instruments or full gamelan ensembles. I Nyoman Windha is among contemporary Indonesian composers that have written compositions using western instruments along with Gamelan. Hungarian composer György Ligeti wrote a piano étude called Galamb Borong influenced by gamelan.
American folk guitarist John Fahey included elements of gamelan in many of his late-60s sound collages, and again in his 1997 collaboration with Cul de Sac, The Epiphany of Glenn Jones. Influenced by gamelan, Robert Fripp used rhythmically interlocking guitars in his duets with Adrian Belew in the 1981–1984 trilogy of albums (Discipline, Beat, Three of a Perfect Pair) by rock band King Crimson[19][20] and in "A Connecticut Yankee in King Arthur's Court" on Fripp's album with The League of Crafty Guitarists.[21] The gamelan has also been used by British multi-instrumentalist Mike Oldfield at least three times, "Woodhenge" (1979), "The Wind Chimes (Part II)" (1987) and "Nightshade" (2005).
On the debut EP of Sonic Youth the track 'She's not Alone' has a gamelan timbre. Experimental pop groups The Residents, 23 Skidoo (whose 1984 album was even titled Urban Gamelan), Mouse on Mars, His Name Is Alive, Xiu Xiu, Macha, Saudade, The Raincoats and the Sun City Girls have used gamelan percussion. Avant-garde performance band Melted Men uses Balinese gamelan instruments as well as gamelan-influenced costumes and dance in their shows. The Moodswinger built by Yuri Landman gives gamelan–like clock and bell sounds, because of its 3rd bridge construction. Indonesian-Dutch composer Sinta Wullur has integrated Western music and gamelan for opera.