Graffiti
Banksy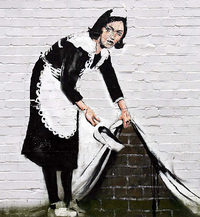 Banksy is a pseudonymous England-based graffiti artist, political activist, film director, and painter. His satirical street art and subversive epigrams combine dark humour with graffiti done in a distinctive stencilling technique.
His satirical street art and subversive epigrams combine dark humour with graffiti done in a distinctive stencilling technique. Such artistic works of political and social commentary have been featured on streets, walls, and bridges of cities throughout the world.
Banksy's work was born of the Bristol underground scene which involved collaborations between artists and musicians. According to author and graphic designer Tristan Manco and the book Home Sweet Home, Banksy "was born in 1974 and raised in Bristol, England. The son of a photocopier technician, he trained as a butcher but became involved in graffiti during the great Bristol aerosol boom of the late 1980s." Observers have noted that his style is similar to Blek le Rat who began to work with stencils in 1981 in Paris and Jef Aerosol who sprayed his first street stencil in 1982 in Tours (France), and members of the anarcho-punk band Crass, which maintained a graffiti stencil campaign on the London Tube System in the late 1970s and early 1980s. However Banksy himself stated on his website that in all actuality he based his work on that of 3D from Massive Attack, stating, "No, I copied 3D from Massive Attack. He can actually draw."
Known for his contempt for the government in labelling graffiti as vandalism, Banksy displays his art on public surfaces such as walls, even going as far as to build physical prop pieces. Banksy does not sell photos of street graffiti directly himself; however, art auctioneers have been known to attempt to sell his street art on location and leave the problem of its removal in the hands of the winning bidder. Banksy's first film, Exit Through the Gift Shop, billed as "the world's first street art disaster movie," made its debut at the 2010 Sundance Film Festival. The film was released in the UK on 5 March 2010. In January 2011, he was nominated for the Academy Award for Best Documentary for the film.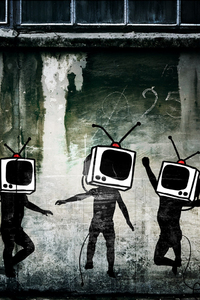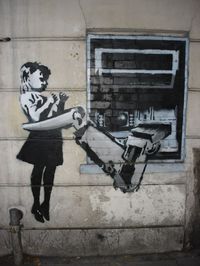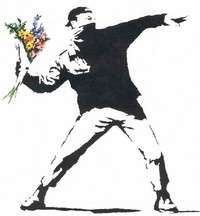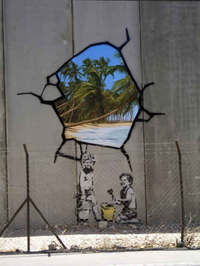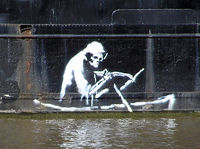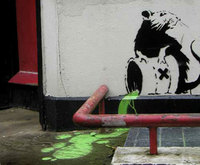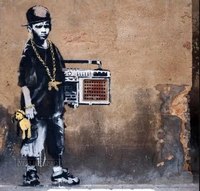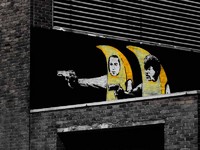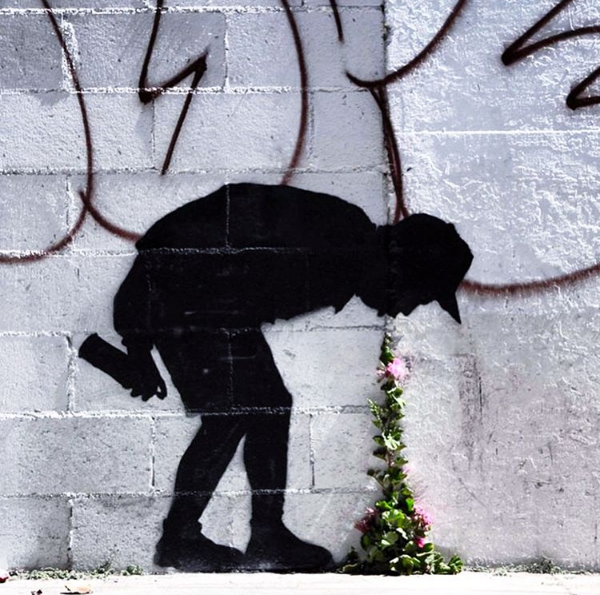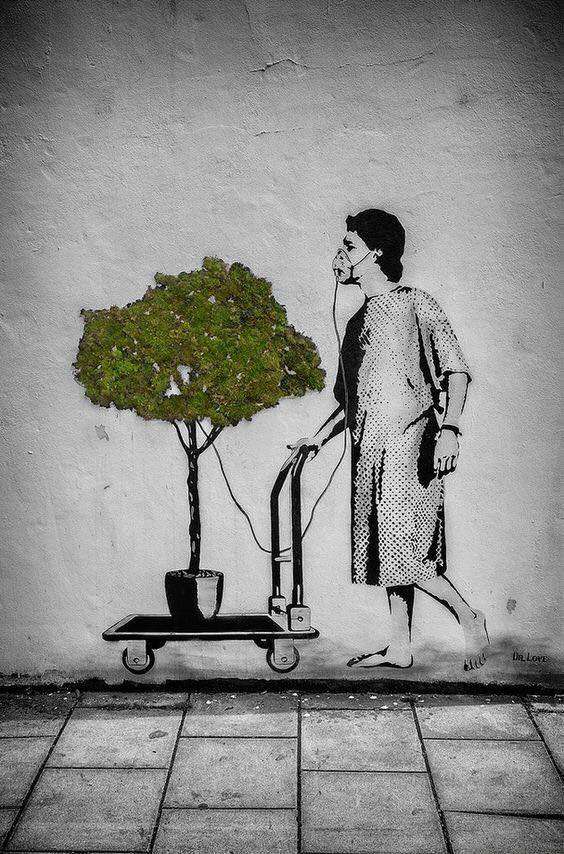 ---
Jean-Michel Basquiat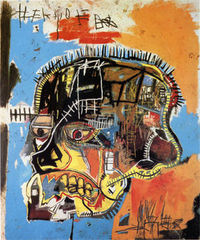 Jean-Michel Basquiat (December 22, 1960 – August 12, 1988) was an American artist. He began as an obscure graffiti artist in New York City in the late 1970s and evolved into an acclaimed Neo-expressionist and Primitivist painter by the 1980s.
Throughout his career Basquiat focused on "suggestive dichotomies," such as wealth versus poverty, integration versus segregation, and inner versus outer experience. Basquiat's art utilized a synergy of appropriation, poetry, drawing and painting, which married text and image, abstraction and figuration, and historical information mixed with contemporary critique. Utilizing social commentary as a "springboard to deeper truths about the individual", Basquiat's paintings also attacked power structures and systems of racism, while his poetics were acutely political and direct in their criticism of colonialism and support for class warfare.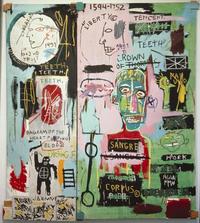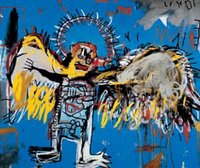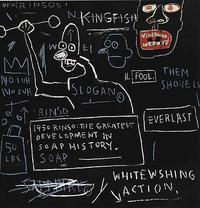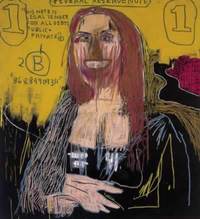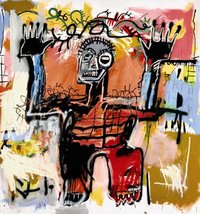 ---
Shepard Fairey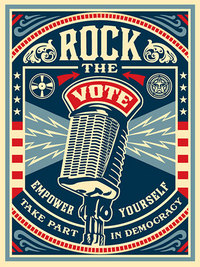 Frank Shepard Fairey (born February 15, 1970) is an American contemporary graphic designer and illustrator who emerged from the skateboarding scene. He first became known for his "Andre the Giant Has a Posse" (…OBEY…) sticker campaign, in which he appropriated images from the comedic supermarket tabloid Weekly World News. His work became more widely known in the 2008 U.S. presidential election, specifically his Barack Obama "Hope" poster. The Institute of Contemporary Art, Boston calls him one of today's best known and most influential street artists. His work is included in the collections at The Smithsonian, the Los Angeles County Museum of Art, the Museum of Modern Art in New York, the Museum of Contemporary Art San Diego, the National Portrait Gallery in Washington, the Virginia Museum of Fine Art in Richmond, and the Victoria and Albert Museum in London