Sample/Synthesize
Sound Design
Sounds can be used in web sites, movies, animation, and your Photoshop montage. These sounds should be creative, dynamic, and original. Sounds set the tone of a piece and can often "tell" a story.
We will conceive, plan and create original multimedia artworks that express an idea, feeling or point of view, individually or as a member of a creative team.
We will use new media and traditional media in a craftsman like way that explores the boundaries of the media.
We will shape the elements of sound; time, space, color, light and texture, timbre, pitch and volume to express our ideas and to create interest, memorability, and beauty.
We will view and listen to a wide array of work by artists, composers, filmmakers and other media artists, including student work, to analyze, critique and understand the work and the context in which it was made.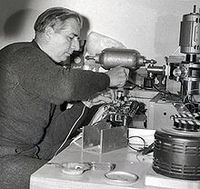 Our evaluation of your work and your grade is based on the above standards and goals for your learning and accomplishments in sound design. In this artistic project we will evaluate: craftsmanship; the effective use of media tools, software, an work process. design and composition; the effective arrangement of sound elements. original expression; unique, personal development of a theme or vision.
In verbal and written responses to the works of art of others and your own we will evaluate your: critical analysis of the formal and expressive features of the art work. interpretation of the themes and ideas of the artwork. understanding of the historical and cultural context of an artist and artwork.
Please visit the links on the side under Sample/Synthesize for more!