Korobeiniki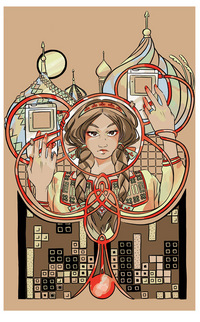 "Korobeiniki" (Russian: , English translation: Peddlers) is a nineteenth-century Russian folk song that tells of a meeting between a peddler and a girl, in which they haggle over the price of goods in a veiled metaphor for courtship.
The song "Korobeiniki" is based on a poem with the same name by Nikolay Nekrasov, written and printed in the Sovremennik magazine in 1861. Due to its increasing tempo and the dance style associated with it, it quickly became a popular Russian folk song.
Korobeiniki were peddlers with trays, selling fabric, haberdashery, books and other small things in pre-revolutionary Russia Nekrasov's poem is a sad story about the love between a peasant girl, Katya, and a young peddler. They meet each other in a rye field at night where he has promised her a good deal on the goods he carries, before they are sold in the market at day. Only the night knows what happens between them in the rye field, but she is not so simple and does not take any of the goods which he offers her. What is the point, she figures, to have all that without him – her first and only love? She takes only a small turquoise ring, as a memory, and he promises to marry her when he comes back from his commerce trip. He continues his journey and she waits for him with caution. His business goes very well and he makes a lot of money, but on the way back he is killed and robbed by a forest ranger whom he asks for directions. So he never comes back to marry Katya. The song is the beginning of the original poem; it only recounts Katya's first meeting with the young peddler when their relation is getting off to a happy start.