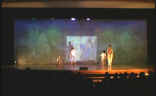 The performance of Connnect(Dis)Connect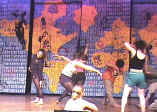 Rehearsals and assemblies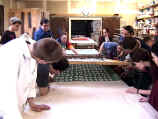 Printmaking at AIR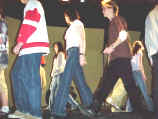 Multimedia Production
On February 24, 2001 The Fine Arts Coalition, North Allegheny Schools, The Artists Image Resource, and Troika Ranch collaborated on a multimedia performance piece, CONNECT(DIS)CONNECT, which explored the challenges of human communication in the information age. The piece utilized smart technology that enabled blending of live music, dance and drama with interactive video, music and animation that responded to the performers every move.
The performance was the culmination of a week long residency with Troika Ranch, a cooperative printmaking project with Artists Image Resource and months of planning and creative work by hundreds of student artists and musicians.
Students in Art, Music and Multimedia classes K through 12 planned scenarios, created images, animations, video, sound and music elements for the piece over several months. Troika Ranch, a New York based dance theater troop that utilizes new media technology, collaborated with the students in the planning and production via the web site, E-Mail and phone conferences. Rehearsals and final production took place over the week long residency. Several assemblies were held for all students in the school district to demonstrate the technology and art that contributed to the piece. The performance of Connect(Dis)Connect along with the performance of Troika Ranch's Vera's Body played to an audience of 500.
The related printmaking project brought middle and high school students to Artists Image Resource, a Pittsburgh fine art printmaking studio, to produce screen prints. In five days of printing created images that included a 36 foot image that was an integral part of the performance, prototypes for the large print, images that were utilized to promote the performance and a final edition of 24 4x6 foot prints. In addition to the drawings contributed by middle and high school students, students from the high school conducted drawing workshops with elementary students to generate imagery used in the prints and animations.