Secret Secret Secret Secret Secret Secret Secret Secret Secret Secret
...........................Squonk Opera...........................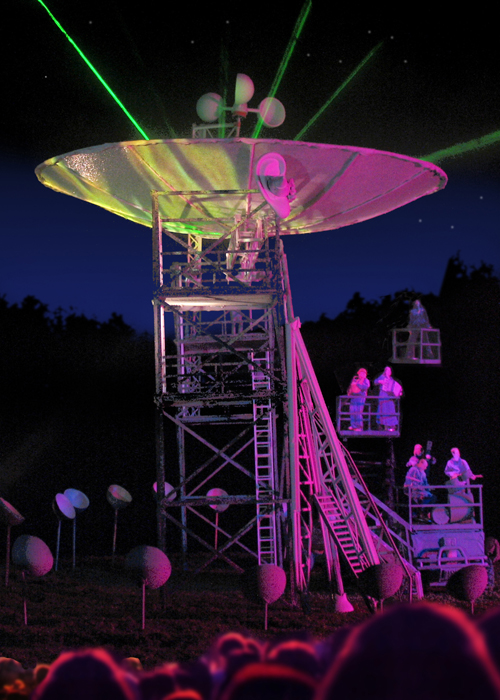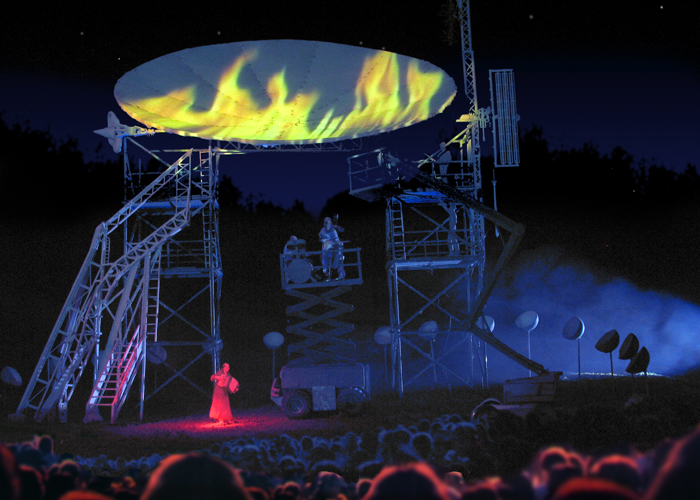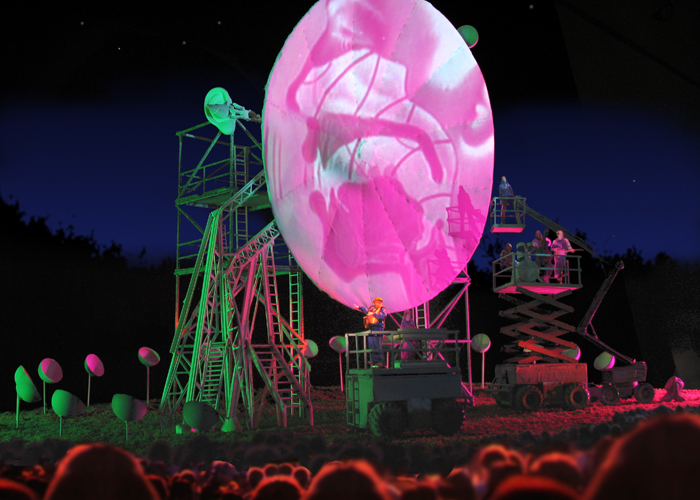 Proposed Project
Astro-rama will be a free, large-scale outdoor event joining its audience in a festive attempt to contact far-flung galaxies. We will build a 40ı radio telescope dish mounted to two scaffold towers, tuned to the galactic frequency of B-flat. The performers will rise in scissor lift platforms, and movies and lasers will energize the show. We will compose a proud message from our species, power up, tilt the dish towards 51 Pegasus, and transmit. Astro-rama will be a one-week series of evening celebrations of both our regionıs and our speciesı progress, at Carnegie Science Center. This will enhance our 250th celebration with an inventive and accessible new work, created locally, and will extend Squonkıs capabilities with its scale and setting, and develop our regional connections.
For several months prior, we will generate a series of UFO events that connect our region and history with extra-terrestrial interventions. This alien activity, supported by creative school contributions, will instigate and promote Astro-rama. Flying saucer residencies will occur in 12-15 local regions, and will include artifacts created by students. Crashes and sightings will occur in Pittsburgh and throughout southwestern Pennsylvania during the spring of 2008 (photos of our staging model and UFO crash are enclosed.)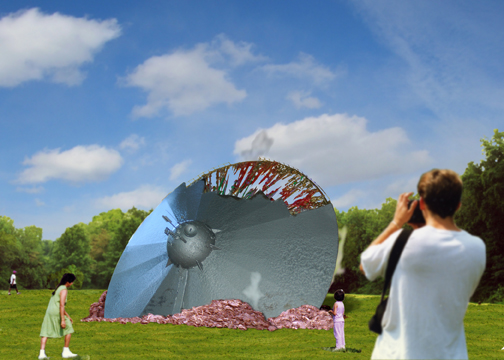 The UFO artifacts will highlight our regionıs scientific and technical innovations, past and future. The events will interest young people in critical thinking and social engagement, melding the seemingly disconnected fields of science and art into an engaging whole. In a time when it is difficult to develop audiences for the arts and sciences, we will bring the show out to the people, dropping UFOs in their backyards.
Astro-rama is science fiction- Carnegie Science Center will hold workshops refuting our discoveries, provoking controversy, and inspiring interest in real astronomy and the physical sciences. We will also connect to the 250 Robots Community Project, SETI artists, Sci-Tech Spectacular, regional school groups, and the 250th themes (including science, culture, family fun, and the outdoors). This free community event invites us to create a self-portrait as a species, unifying us as earthlings and moving us beyond the more tribal alliances of nationality, socio-economic, religious and racial identities.
Our focus in this project is to:
-Inspire a diverse audience to explore what it means to be unified (as regional citizens, as Earthlings, and as intelligent beings). -Provoke critical thinking, inspiring students and audience toward creative thought about science and belief systems. -Develop non-traditional regional audiences through student collaborations and open public setting. -Celebrate our regionıs history of innovation and technological achievements.
We want to address serious issues of belief and innovation with humor, inviting controversy. Whatever our politics and cultural differences, we are all earthlings here: funny, curious, needy creatures. The showıs premise, engaging with alien life, justifies the least culture-bound forms of communication - music and image (Squonkıs specialty). The event will use these to convey our altruistic optimism, and it wonıt intimidate audiences by calling itself ³art.²
Squonk Opera is an ensemble, too large and various to list the credentials of all involved, here. This show will draw on our many long-term relationships - our wonderful collaborative performing group ­ the Squonk Ensemble, magnificent Videographer Buzz Miller, lighting designer Bob Steineck, sound designer Kevin Kornicki.
Project Marketing, PR and Outreach
Our audience includes children and intellectuals, and the area in between these two groups where most of us live. The show is outside, fun and free, with accessibility similar to that of a fireworks show. It is a one-week series of evening celebrations in an open public setting, inviting people to bring blankets, lawn chairs, picnic baskets, and perhaps, alien party-hats. It engages young people and families who are unused to reserving tickets and attending theater. If weather serves us well, the potential audience and participants for Astro-rama could reach to 5,000-10,000, rather than being limited to the few hundred each night of our last (sold-out) theater run of Pittsburgh: The Opera.
We want to connect the region as representative earthlings, so we will instigate UFO activity in the months prior to the show, with regional students at the helm. We will set up funny scientific controversies, making pseudo-scientific discoveries and outrageous statements to be refuted, through real science, by our foil, the Carnegie Science Center.
Flying saucer crashes will be ³discovered² at various sites in numerous regional counties. The related videos will be posted on the internet, and each time the thirty-foot flying saucer is discovered local media will be alerted. The crashed saucer will be left in place for 24 hours, and loaded in and out during the dark of night. Several Squonkers in protective suits with Geiger counters will protect the site and extract the alien payload, deferring questions to ³your local authorities.² These events will precede the Astro-rama show, building mystery and interest with each sighting.
Students will create documents and artifacts as UFO payload. These charred objects, maps, and texts may indicate alien interventions in Pittsburghıs rich technological history. Creative and humorous ideas will be encouraged, and play off of our anthropocentric leanings: Which of our wonderful achievements are so singular and innovative that they are best explained by an ³inspiration² of external (alien) genius? Hints of an August Wilson or Gertrude Stein or Annie Dillard draft in a quasi-alien language, plans for a Bessemer Furnace, extra-terrestrial recipes for Heinz ketchup? If ³they² helped us build the pyramids, maybe they left Frank Lloyd Wright some blueprints for Fallingwater! A Martian terrible towel, or Warholıs artworks?
We will also encourage the exploration of multi-media projects within this program. For instance, students will create videos of UFO or alien sightings, which will be posted on YouTube and cited in our press releases and web pages, blurring the line between fact and fiction, press and pageantry. Outside the confines of the established mediaıs news cycle, these DIY viral videos will take on a life of their own as the students send text messages and emails about the mysterious extra-terrestrial activity that is suddenly popping up all over southwestern Pennsylvania.
intercepted video transmission
Astro-rama

UFOs will crash at three or four locations in the surrounding counties in the spring. And then in Pittsburgh at the Three Rivers Arts Festival in June and at the Science Center in July, where the show will eventually take place in early August. The final UFO crash will contain the plans we use to build the radio telescope system we'll build at the Science Center to attempt our communication (our show).
The pitch:
We want you and your class to help by creating some short multimedia clips that'll be used in this show and to help create hype and buzz leading up to the show – using using some of your creations as viral videos.
As the UFO crashes start happening, we want to post some of your multimedia clips on a couple of web sites we'll manage that focus on this sudden increase in alien and UFO activity in our region. Eventually Squonk will come forward and take the lead to try and start a formal dialogue with these aliens.
Also these viral videos may wind up being discovered in the payload aboard one of the UFOs that crash – a message crafted to communicate with us earthlings. What do you think another creature might try and "say" to us? How would they "say" it?
So the clip you make could be a sighting of a UFO. It could be footage of an alien abduction. Or a sighting of an alien in and around Pittsburgh. Or footage from an abductee – some one who was able to shoot some video when they were abducted by aliens.
We are trying to perpetrate the myth that some of the great human accomplishments are a really the result of alien activity. Over the last 250 years here in Pittsburgh, aliens have played a big role in our history – they gave us the recipe for Heinz Ketchup or the plans for the Bessemer Furnace. They even personally delivered Tesla to Westinghouse to show us how to harness electricity.
Remember...keeping this secret is a key to this effectively promoting and creating "buz" for the piece through viral marketing. Nothing should be posted to the web....yet.
This is a place to capture ideas about videos and pictures we will make.
We will make videos from us to them, from them to us, our videos of them and their videos of/about us.

Videos from us to them:
If you were to make a video message to send out to an alien species about us and our world, what would it be? Like a self portrait as a species to the universe.
Add your thoughts!
Alien videos to us:
What would they communicate to us? Warnings? Instructions? What new innovation, invention or inspiration might alien intelligence deliver to us to solve global warming, global conflict, the energy crisis, other challenges? How would they do it? What would it look like?
Add your thoughts!
Our video of them:
If UFOs or an alien showed up in our own back yard (neighborhood, school, mall, parking lot) what would it be like? Look like? Sound like? Feel like?
Add your thoughts!
Alien videos of /about us:
What if the innovations, inventions, genius of things in the Pittsburgh region were really created, inspired, directed by an alien force or intervention? What things or people would that be? How might it have happened? What if Warhol were an alien? Who else?
Add your thoughts!

Awesome ideas so far! Keep them coming.
Resources